When it comes to advertising, you'll often hear marketers say to hook the consumer with emotion. And it's true. It has been proven that humans are emotional beings who respond first to emotion, then rationalize with facts. But this is easier said than done. After all, there are a lot of emotions. How do you choose which emotion to lead with? 
For example, which emotion do you think would cause you to connect with a brand more: happiness or anxiety?
If you're like many of us, you probably guessed the positive emotion, happiness. But the truth is, both emotions are likely to encourage you to engage with a brand, just in different ways.
Subaru is a good example of how to use both of these emotions effectively. Check out these two commercials—they're both emotional, but each achieves a unique goal of weaving the brand story and making a bold case for the product.
What Subaru's commercials have in common is that the emotions they use are high-arousal—and that's the trick to choosing emotions that will garner attention, not allow people to move past without a second glance.
In his book Contagious, Jonah Berger describes arousal as, "a state of activation and readiness for action. The heart beats faster and blood pressure rises."
Arousing emotions cause people to act, to share, to engage. On the other hand, certain emotions stifle actions.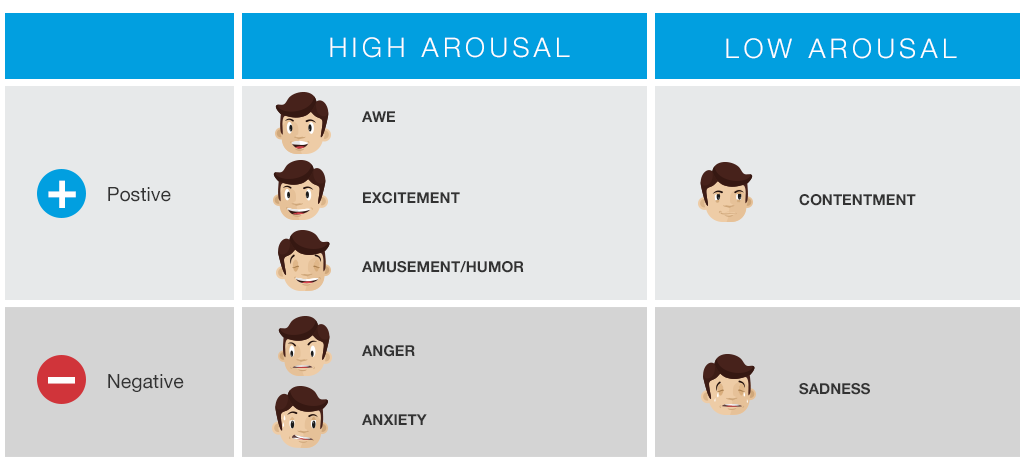 To sum it all up, it is highly important to utilize emotion in your marketing and advertising material—just remember: not all emotions are created equal.